Dental Implants – Your Best Solution For Missing Teeth, Reading
If you have a missing front tooth, or are missing several teeth, we know how distressing this can be and how much it can affect your confidence. Dental implants are the most natural, permanent solution for missing teeth. Patients from Caversham, Tilehurst, Calcot, Woodley and Earley are realising the benefits and opting for new teeth through dental implants. Book a free consultation to talk through your dental implant options now.
What Are Dental Implants?
Dental implants or tooth implants are a permanent, natural looking replacement for a single missing tooth or multiple missing teeth. Once in place they can be treated like normal teeth, allowing you to speak, eat and smile with confidence.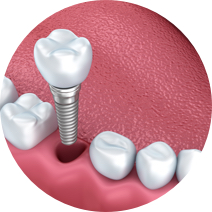 How Do Dental Implants Work?
A small cut is made into your gum, the implant which consists of a small titanium rod is fitted to your jawbone and a replacement tooth is fitted on top. Over time the rod and your jawbone fuse together so that your tooth implant looks and feels like one of your own teeth. There are several types of dental implants. Your dentist can talk through the options and discuss which are right for you.
Treatment Procedure Animations
Benefits Of Dental Implants, Reading?
Replaces gaps in your mouth with permanent, natural looking new teeth
Increases your self-confidence letting you smile again
Improves your relationships with others
With dental implants there is no need for dentures or false teeth
You can speak naturally and easily
You can eat all of your favourite foods
Your face shape remains the same
Helps overcome any pain or issues you may have had with missing teeth
How Reading Smiles Can Help Replace Missing Teeth
We offer an initial free consultation to talk through your dental implant options
Our expert staff are fully trained in all areas of dental implants
We have treated hundreds of patients with dental implants, all with excellent success
We offer sedation throughout the dental implants process should you need it
Many people are worried about the cost of dental implants, so we offer 12 months 0% finance to help manage the cost
Our team are so passionate about what we do that we have work published in journals and have featured on television
We offer flexible appointment times open from 8am to 8pm Monday to Friday and 9am to 6pm on Saturday, so it's easy to book an appointment to talk through your options for missing teeth and dental implants