Damon Braces at Reading Smiles
The Damon brace is designed to give you a smile that will last you a lifetime. Here at Reading Smiles, our dentist will take a large number of factors into account, such as your face shape, oral health and any timescales you have in mind to help achieve your perfect smile. Traditional fixed orthodontics often requires removal of healthy teeth to make space.
This approach is often uncomfortable, and can even leave a much narrower arch and flat profile as well as taking longer. The Damon brace system can help patients with a variety of dental issues, including overbite, extreme crowding, jaw pain and/or clicking to much simpler cases such a simple overlapping of the front teeth.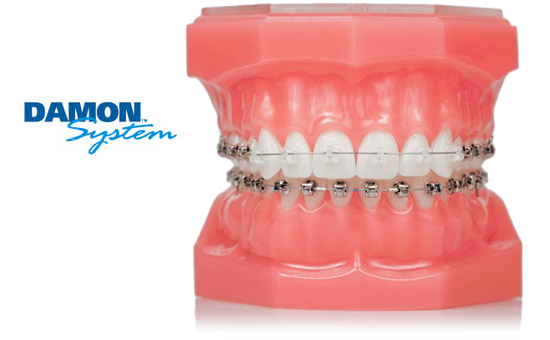 Choose Reading Smiles for Damon Braces
Book consultation for Damon Braces
Award-winning dentists
Free whitening worth £295
Free removable retainers worth £300
Why wait? Interest-free finance available
Cost of Damon Braces in Reading
Damon Braces is affordable
Many people worry about the cost of Damon Braces, and so we have devised a number of payment plans to help you afford the right treatment.
Damon braces from £2.00 per day with our finance options.
Damon Braces
Free removable retainers worth £300
Free teeth whitening worth £295
Free initial consultation worth £95
Benefits of Using Damon Braces
Treatment with the Damon brace often shorter than traditional fixed braces due to there being less friction with self-ligating (self binding) brackets. The very light, ͚shape memory͛ titanium wires gently guide your teeth to their ideal position, often requiring fewer adjustments with your dentist.
The low friction nature of the system assures improved tooth position can help reduce the discomfort felt with traditional braces. Rather than traditional elastics, the fastening on Damon Braces allow for a smoother, often faster movement. As ceramic attachments are durable and discrete the braces are lifestyle friendly.
Learn about our braces options
Invisalign

Six month smiles

Providing teeth straightening treatment for adults & children at all our centres covering patients from Reading, Caversham and Berkshire.