Cosmetic dental treatment such as dental veneers can transform the appearance of your teeth and smile. Veneers are used to increase the dimension of the tooth, lengthen, thicken, square or reshape the tooth. This is helpful in instances where there is a chipped tooth, gaps between teeth, or even staining of teeth.
Porcelain Veneers are ultra-thin, tooth coloured laminates of porcelain. Although thin they are extremely strong. They are custom made to match your existing teeth by a specialist laboratory, and then bonded onto the front of the tooth. Providing you look after them, they can last you years.

Dental veneers can provide a natural look, and also brighten your smile. Patients often say that their lives have been transformed after having cosmetic treatment, as it's given them the confidence to smile again.
The final appearance of veneers depends on the outcome you are looking for. So whether you would like a Hollywood smile or just a subtle change this can be discussed and tailored to your desired outcome.
Below is an example of one of our recent dental veneers case.
To view our gallery of smile makeovers using veneers, braces, implants and crowns click here
Book A Consultation For Dental Veneers With Our Award Winning Dentist in Reading
Veneers are routinely used to address and fix: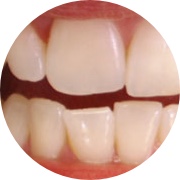 Worn down teeth
Worn down teeth, or those that are misaligned/crooked. They can also sort an irregular shaped tooth.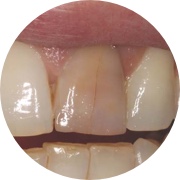 Discoloured teeth
Teeth that are discoloured, either due to root canal treatment, excessive fluoride or the presence of large resin fillings that have discoloured the tooth.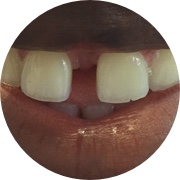 Gaps/spacing
To close a diastema, which is a space or gap between two teeth, usually between the two upper front teeth. However, spacing or gaps can occur between any two teeth.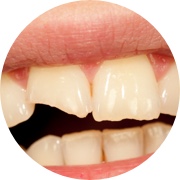 Damaged tooth
Porcelain veneers are ideal if you have a chipped, damaged, or broken tooth.
How much do dental veneers cost?
Reading smiles dental veneers start from £450. We offer 0% finance on Veneers.
Dr Nathwani worked on veneer cases for Channel 4's 10 Years Younger while working in Knightsbridge and on Harley Street. His extensive training and experience at world renowned restorative institutes such as the Larry Rosenthal Institute coupled with his eye for detail ensure the result you desire, from natural discrete restorative work through to Hollywood-worthy smiles.
For more information please contact us or book in for a consultation for treatment options tailored to your lifestyle and requirements.
We are open from 8am – 8pm on weekdays, 9am – 5pm Saturdays and 11am – 4pm on Sundays so you do not need to take time off work for more cosmetic dental work.